THE CABLE/ BAR GUY'S LATEST DISCOVERIES
This page is devoted to my protégés, and I intend,
in no way, to be modest about their accomplishments!!!
MEET: NATHAN HOLLAND
AGE: 20
WEIGHT: 151
HEIGHT: 5'9"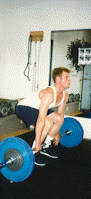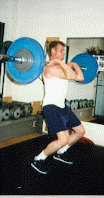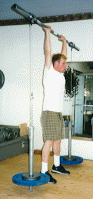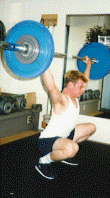 Nathan: left to right performs a power clean, a CBS overhead
support, and adjusts under a PR snatch.
The summer of 1998 has been very productive. First, in their first contest, two of my protégés PR'd and won trophies. Then, in their second contest, the streak was continued by a new protégé, Nathan Holland. Nathan, unlike the other trainees that I've worked with was not a footballer or wrestler. His primary introduction to me came through his best frien, Jesse Marunde. Fortunately a lot of what Jesse does is emulated by those close to him.
I immediately from our first workout knew Nathan had great potential as a lifter. His flexibility and leverage were perfect. So I figured all I had to do was teach him the basic form for the Olympic lifts and get him stronger. He immediately responded to my basic strength program of Front and Back Squats, Military Presses, Push Presses, Romanian DL's, Power Cleans and Power Snatches.
Within eight weeks, working up to his first contest, Nathan improved his snatch by 30 lbs. and became the first one of my current group to snatch his own bodyweight. However, we didn't realize that Nathan was doing that well because he had being weighing himself on a scale that was inaccurate. For two months I had figured Nathan was a Middleweight (77kg class), but when we got to his first contest he weighed in at only 151 lbs which made him a Lightweight (69 kg class). This was pleasant surprise because he ended up by winning his class.
Nathan now, just like a lot of my other trainees, has left for greener pastures. This fall he started studies at Seattle Pacific University. Athletically he hopes to compete on the school's crew rowing team. Whether he continues also with his Olympic lifting, I can only hope. But he does have a good foundation now for any sport he chooses to participate in.
MEET: BRISTOL MARUNDE
AGE: 16
WEIGHT: 158
HEIGHT: 5'11''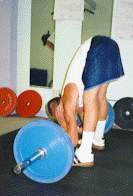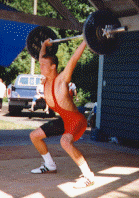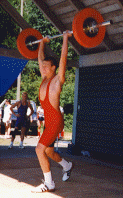 Left to right: Bristol showing his flexibility with a difficult Mansfield Lift (Stiff Legged Zercher Lift). NOTE: DO NOT do this exercise with anything but VERY light weights. It should be used only as a stretching exercise. Then snatching and clean and jerking in his first contest.
When a young man has the desire to pursue athletics many times certain peer pressures create apprehensions. In the case of Bristol Marunde, he is following in the talented footsteps of his older brother, Jesse, who as you will read about further on, is one of the most talented young athletes in western Washington state.

However Bristol is now starting to show his own individuality. Not withstanding his commitment to his normal high school sports, like football, wrestling, and track, Bristol now seems to have made a solid commitment to Olympic lifting.

As his coach, it's been a pleasure to work with this young man. In the short time we've been working together he has made remarkable gains. In preparing him for his first Olympic lifting meet I had but a mire 4 weeks. However, in just that short span, both his snatch and clean and jerk improved 10 kg. / 22 lbs. This in turn gave him the confidence to PR three times in his first meet, twice in the snatch on his 2nd and 3rd attempts, and once on his third clean and jerk. So he deservedly took home a trophy for his efforts.
MEET: ROBBIE WALDON
AGE: 16
WEIGHT: 118
HEIGHT: 5'4"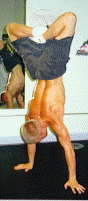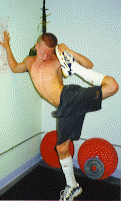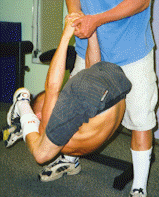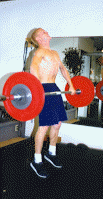 Left to right: Robbie doing some of the stuff that got him the nick name "Circus Boy". Then showing good form pulling a power snatch.
Don't let the size fool you! This young guy is a human dynamo. I have yet to find anything athletically that this young man can't do! For starters, even at his young age, he has already performed with a circus troupe as a high wire, tumbling, and contortionist act.
On top of that, as a high school athlete Robbie has had the gumption, even for his small stature, to play football. As a wrestler he ranks near the top, having posted a 27 and 4 record during the last school year. After that he went on to lift in the Washington state HS Powerlifting Championships posting a commendable 805 total via a 300 SQ, 190 BP, and 315 DL.

However, his biggest claim to fame is his prowess on the track. Last year, at the age of 15, he was ranked in the top ten in the nation as a middle distance runner, recording an impressive 4:17 in the 1500 meter run. Not to be satisfied with that, this year he entered the 1 1/2 mile steeple chase and recorded an incredible time of 6:21. Then, if you can believe it, just one week later he entered his first Olympic weightlifting meet, and managed to cop a third place trophy.

_________________________________________________________________________
TO THE CABLE/ BAR GUY'S HOME PAGE
PACIFIC NORTHWEST' LIFTER'S CORNER